The Ethical Life:
Jewish values in an age of choice
From political and financial scandals to rapid progress in biomedical science and technology, the complex issues of modern society are, at their core, issues of ethical and moral concern.
Now more than ever, we require a solid understanding of how Jewish ethics can inform our discussions and decisions about the critical questions of the day. Judaism has a long history of wrestling with moral questions, responding to them in a way that considers all sides of an issue.
The Ethical Life: Jewish Values in an Age of Choice from the Jewish Theological Seminary will be presented by Rabbi Spivak online.
The next session, Ethical Dimensions of Food Production, will be held on Monday, April 27 at 1:00 pm, with a second session at 7:00 pm.

Ethical Dimensions of Food Production
Monday, April 27 at 1:00 pm, with a second session at 7:00 pm.
Do we have to choose between having abundant food and causing environmental damage?
Improved farming techniques and increased international trade have made food more abundant and less expensive. This has allowed more people to have adequate diets and has offered us an enormous variety of food. At the same time, current trends in food production are exerting pressure on the environment and increasing the danger of soil degradation, pollution, loss of biodiversity and animal cruelty.
As consumers, we exert influence on production in the ways we buy, transport, prepare and consume food. In this discussion, we will explore how Jewish teachings can provide insight into how to make ethical choices about food. Dr. David Kraemer, Professor of Talmud and Director of the Library at the Jewish Theological Seminary, presents new insights into a Jewish ethical approach to food.
We will look at original sources in the Bible, Maimonides and the Talmud and see if we can apply their teachings to our own lives and community.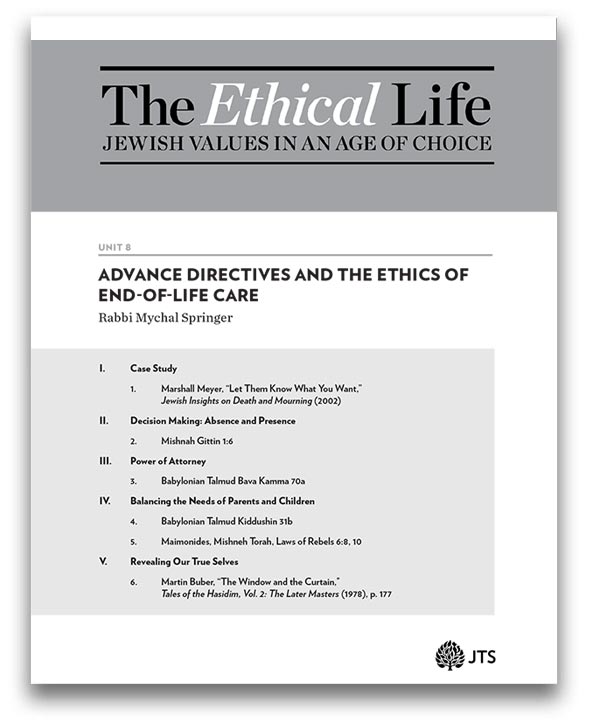 Advance Directives and the Ethics of End-of-Life Care
Wednesday, May 20 at 1:00 pm, with a second session at 7:00 pm.
Among the diverse perspectives in Judaism about planning and decision-making for healthcare concerns, one teaching is clear and consistent: Life is sacred.
When you plan in advance, you honor the sacredness of life by considering important questions with ample time and space. Planning ahead enables you to explore Jewish values as a guide for sorting out the complexities of healthcare decisions and end of life care together with trusted loved ones, rather than making difficult choices hastily and under the pressure of a healthcare crisis. Jewish wisdom can provide profound guidance that can have great impact when considered thoughtfully in conjunction with your personal values, goals, and life choices.
This course will cover Jewish thought on decision-making, power-of-attorney, balancing the needs of parents and children and more.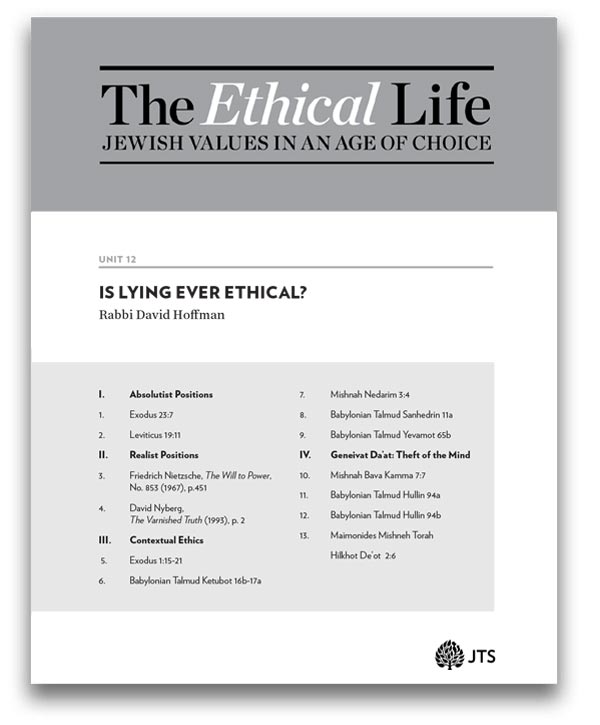 Is Lying Ever Ethical?
Monday, June 22 at 1:00 pm, with a second session at 7:00 pm.
Using ancient and contemporary texts, we will examine the concept of truth in personal and interpersonal ethics.
Thank you !
Your Ethical Life class dates are:

An email with these dates and times has been sent to
Ethical Life Class Registration